Capital innovation for safe disposal of e- waste
A Clean e-India initiative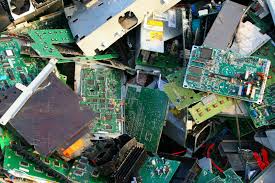 Attero Recycling and IFC, as a part of its first-of-its-kind initiative called Clean e-India, has launched its e-waste consumer take-back model in Delhi. This is a new beginning, for an effort of this type, to be made to tackle e- waste in the NCT of Delhi. This model has been launched with the aim to collect and responsibly recycle the electronic and electrical waste. This initiative in Delhi is a timely intervention. Accord..
more »

Civic body urges citizens, NGOs to help keeping Mumbai clean
The Brihanmumbai Municipal Corporation (BMC) under the vision of 'Swachh Bharat Abhiyan' has initiated a plan wherein citizens can get in touch with the local ward offices to get areas in their vicinity cleaned every Saturday, between 9 a.m. and 1 p.m. The BMC has also sought the help of local NGOs and A...
more »
Bengaluru water bodies shrinking
A new study by the Centre for Ecological Sciences (CES) at the Indian Institute of Science reveals that by the end of this decade, Bengaluru's dwindling water bodies could shrink to half their original number and expanse. By 2020, lakes will constitute just 0.74 percent of the city, which is around half their ...
more »
Corp bank aims at building toilets under 'Swachh Bharat Abhiyan'
Corporation Bank has announced the construction of 100 toilets across the country in the schools that do not have the facility under the 'Swachh Vidyalaya' scheme as part of 'Swachh Bharat Abhiyan'.
SR Bansal, Chairman and Managing Director of the bank, who led a cleaning campaign in ...
more »
Jindal Stainless forays into stainless steel modular toilets
Jindal Stainless, has made an entry in the modular toilet manufacturing segment and has received orders from companies and government bodies such as KRIDL -Karnataka Rural Infrastructure Development Limited. The company would soon be installing these toilets in key districts and cities such as Jajpur in Orissa, at P...
more »
Events

Freida Pinto
Indian actress and model
Next five years we should aim to breathe clean and erase that unsavory label of 'filthy' and 'smelly' that India is burdened with. This is every Indian citizen's responsibility.