Swachh Bharat at 35 paisa - Delhiite's gift to India
Portable bins and zipped pouches to instigate the idea of 'Swachh Bharat'

A Delhi-based executive, Abhishek Marwaha, working with an international travel company in Mumbai, has come up with the idea of portable bins. He has designed them and named them Swachh Bins. These bins have a lid which can be zipped and are especially useful while travelling. According to Marwaha, the Swachh Bin could be a great solution to the genuine problem of drivers while in transit, who are otherwise bound to throw trash ..
more »
Eco-vapor to ameliorate sanitation
Among the many experiments going on to lift the sanitation scenario in India, a new eco-vapor toilet system being tested is making rounds. Currently being investigated in India, the system utilises a fabric that traps human waste and allows only water vapor molecules to escape, allowing sewage to be less promising ...
more »
Gates Foundation and USAID join hands for Swachh Bharat Mission
The United States Agency for International Development (USAID) and the Bill & Melinda Gates Foundation are all set to join hands with the Ministry of Urban Development (MoUD) to take the Swachh Bharat Clean India Mission forward. The MoUD has signed a Memorandum of Understanding (MoU) with USAID and a Memorandum of...
more »
Market brightens for Indian municipal water treatment
A surge in urban population in India is going to lead to a rise in demand for municipal water and wastewater treatment systems including desalination, supplementing revenues by 57 per cent over five years, reports market analyst Frost and Sullivan (F&S). It is speculated that more than 20 cities will grow largely b...
more »
Arcot goes hi – tech for garbage disposal
As part of a modern deep underground waste management system (DUWMS), Arcot Municipality (Vellore) is all set for global positioning system (GPS)-enabled 'smart bins', connected to a centralised monitoring system. The system, currently in place in six countries – Norway, Sweden, Finland, Latvia, Germa...
more »
Events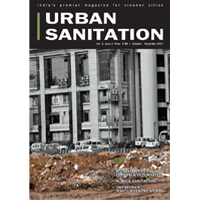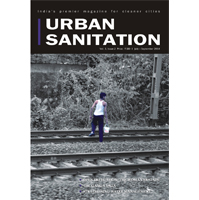 Suresh Prabhu
Railway Minister
"This year 17,000 existing toilets on coaches will be replaced with bio-toilets, and new toilets will be built in 650 stations. Meanwhile, vacuum toilets, where waste is cleaned using air instead of water, are being designed in the next six months."